The crypto market is changing.
Are you investing in DeFi?
Introducing Zerocap DeFi Discount Notes (entry window expired)
*Available to wholesale investors only.
Assets are moving into DeFi protocols after the FTX collapse
Why Decentralised Finance (DeFi)?
DeFi utilises Smart Contracts which are black and white - self-executing, transparent and irreversible


DeFi enables users to retain custody of their digital assets - smart contract based escrow


DeFi enables digital assets to be instantly liquidated before a party can default
Zerocap DeFi Discount Notes
DeFi tokens have historically outperformed in the aftermath of crypto market risk-off events in 2022. Zerocap's DeFi Discount Notes are a way to gain cheaper exposure to these tokens.

AAVE
The AAVE protocol is one of the earliest decentralised finance applications. The AAVE token is the governance token of this protocol.

UNI
The UNI protocol is the most popular decentralised exchange in crypto. The UNI token is the governance token of this protocol.

GMX
GMX is an up and coming exchange in decentralised finance. It is built on Arbitrum (Ethereum Layer 2 blockchain).


TWO POSSIBLE OUTCOMES
for each DeFi Discount Note at expiry (e.g. AAVE)
Expiry Price above Strike Price
(25% above current price)
You receive 39% return
on your investment paid in USD.
Expiry Price below Strike Price
You buy at 10% below
current price today
and receive in Spot.
* Payouts and pricing are indicative and are subject to change (based on varying market conditions etc.) Maximum loss for this product is the investment amount.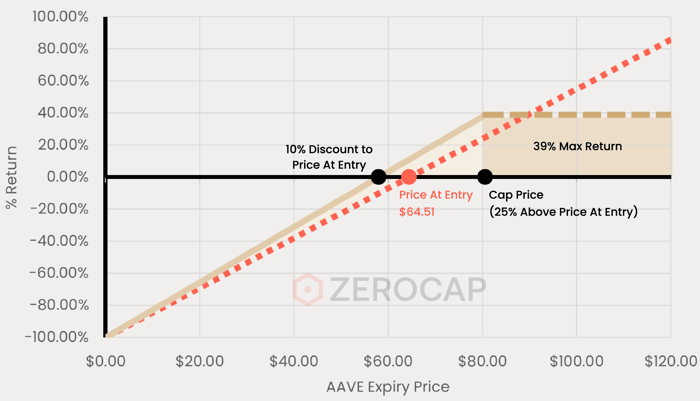 Why trade Structured Products?
Structured Products allow wholesale investors to harvest the volatility risk premium or control downside in crypto markets.

REMOVES TIMING RISK
"WHEN DO I GET IN?"
Enter a long position now at a discount to cushion downside impact.

CAPTURES
INEFFICIENCY
The derivatives markets are continually mispriced (because of leverage and an immature market). Zerocap looks to package up yields in a methodical and risk controlled manner.

ENHANCE YIELD
ON PORTFOLIOS
If you own crypto or cash, we can potentially enhance treasury yields on the back of portfolios.
Zerocap DeFi Discount Notes
This product's entry window has expired.
However, feel free to register your interest in future Zerocap products through the form below.
*Available to wholesale investors only.
DISCLAIMER This material is issued by Zerocap Pty Ltd (Zerocap). Zerocap is registered with AUSTRAC (Australian regulator overseeing AML CTF) as a Digital Currency Exchange service provider - DCE100635539-001. To serve structured products and funds (regulated financial products), Zerocap Pty Ltd is a Corporate Authorised Representative (CAR: 001289130) of Gannet Capital Pty Ltd (ACN 139 264 690; AFSL 340799). This material is issued to you on the basis that you qualify as a "Wholesale Investor" for the purposes of Sections 761GA and 708(10) of the Corporations Act 2001 (Cth) (Sophisticated/Wholesale Client) This material is intended solely for the information of the particular person to whom it was provided by Zerocap and should not be relied upon by any other person. The information contained in this material is general in nature and does not constitute advice,take into account financial objectives or situation of an investor; nor a recommendation to deal. Any recipients of this material acknowledge and agree that they must conduct and have conducted their own due diligence investigation and have not relied upon any representations of Zerocap, its officers, employees, representatives or associates. Zerocap has not independently verified the information contained in this material. Zerocap assumes no responsibility for updating any information, views or opinions contained in this material or for correcting any error or omission which may become apparent after the material has been issued. Zerocap does not give any warranty as to the accuracy, reliability or completeness of advice or information which is contained in this material. Except insofar as liability under any statute cannot be excluded, Zerocap and its officers, employees, representatives or associates do not accept any liability (whether arising in contract, in tort or negligence or otherwise) for any error or omission in this material or for any resulting loss or damage (whether direct, indirect, consequential or otherwise) suffered by the recipient of this material or any other person. This is a private communication and was not intended for public circulation or publication or for the use of any third party. This material must not be distributed or released in the United States. It may only be provided to persons who are outside the United States and are not acting for the account or benefit of, "US Persons" in connection with transactions that would be "offshore transactions" (as such terms are defined in Regulation S under the U.S. Securities Act of 1933, as amended (the "Securities Act")). This material does not, and is not intended to, constitute an offer or invitation in the United States, or in any other place or jurisdiction in which, or to any person to whom, it would not be lawful to make such an offer or invitation. If you are not the intended recipient of this material, please notify Zerocap immediately and destroy all copies of this material, whether held in electronic or printed form or otherwise. Disclosure of Interest: Zerocap, its officers, employees, representatives and associates within the meaning of Chapter 7 of the Corporations Act may receive commissions and management fees from transactions involving securities referred to in this material (which its representatives may directly share) and may from time to time hold interests in the assets referred to in this material. Investors should consider this material as only a single factor in making their investment decision.